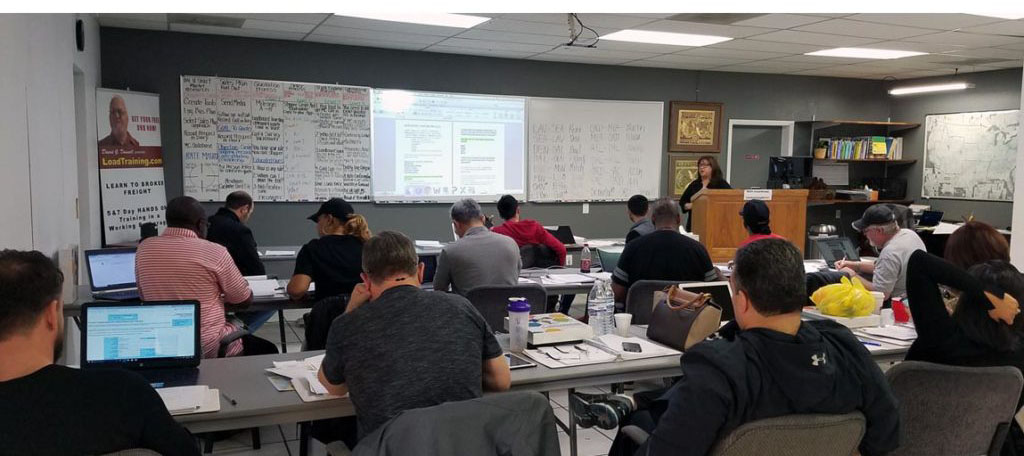 America's Most Recognized Freight Broker Training School. CALL 1-800-776-7067
Your 1st Freight Broker Lesson is on Us!
PLUS…Get 6 FREE Downloadable Books Right Now!
As the most recognized freight broker training course in America, Loadtraining prides on teaching people how to find freight from shippers. Our training courses are designed to put you right in the heart of freight brokering. It does not matter if you want to become an agent or a broker. Loadtraining will show you how to succeed. Come learn with us in a REAL WORKING FREIGHT BROKERAGE!!
You will have instant access after you fill out the form.
But don't just take our word for it find out what other people have to say about
Loadtraining Freight Broker School
Very personal training had a small class. That was the best. I already was a Dispatcher this course cleared up the differences between the 2 dispatching and brokering... which I can still do dispatching as well. The instructor Ruth was very detailed and hands on with anything we needed or asked. I feel leaving this school excited to get going...
I highly recommend this class for everyone in the transportation industry or wanting to get into the industry. My sister and I did the 3-day class with Ruth and she was absolutely wonderful. She was able to answer any and all questions we had and made sure we fully understood every topic covered before moving on. I left with so much knowledge and a whole new confidence boost. Wonderful instructors, wonderful class, and highly exceeded my expectations!!
This class is extremely informative and Ruth is a great teacher. She really is the best!! She is so knowledgeable and is able to get the information across in a way everybody understands. I didn't know anything before this class and I'm walking away feeling like an expert! I also had fun and met others in the same industry. I'm also thankful for the continuing relationship with Load Training and knowing I can reach out to them anytime in the future with questions. It's a great class and system!
Nicholas Sanders
2022-06-13
Lets start off with the five stars given one star for accuracy everything they said and promised to us before we got to class was accurate. Second and third star dependability and trust, they said they were going to mail some learning material to go over with before coming to class and it arrived faster than expected. I would say that was definitely worth two more stars. Fourth star, classroom was great. Classroom was very informative to hands on was everything I thought it would be. It was just my mom, me and the instructor and gave great time for discussing topics and getting more in depth with what would be needed to start brokering on our own. Fifth star, overall I would recommend this place to just about anybody who wants to get their brokers license or become a an agent with a little bit of knowledge and industry insight. Overall very exceptional and over the top learning environment. Thank you.
Mrs Ruth is very knowledgeable and patience. I really enjoyed this 5 days class in Orlando, Fl. I definitely recommend this class to anyone that is looking to become a freight broker. She made it easy for anybody with whatever learning styles. I feel really good after the 5th day. The examples, the stories, the hands on training, the live calls, everything was really great. Invest in yourself, you won't regret it.
I personally enjoyed the experience! Gained a greater understanding, and knowledge of the freightbrokering business. I feel confident, they offer assistance after class if needed. They are kind and personable. Thank you to Ruth, Pedro and the rest of their amazing specialists, for all you do! -Glenda I was also able to meet with colleagues that were able to provide great knowledge. They shared experiences as Motor Carriers. So excited!
Sophia Fernandez
2022-05-02
I took this course wanting to learn more about the brokerage side of transportation and logistics and came out learning more about my own trucking company. These instructors were incredibly knowledgeable and had first hand stories they've actually experienced. I highly recommend this course if you own your own trucking company and want to get more involved in the brokerage side of things. This school is also the oldest around and actually have their own brokerage within their facility! I absolutely loved this course and loved the instructors! Highly, highly recommend!
Ruth conducted a wonderful course with tons of real-life, hands-on, meaningful examples and activities to go along with the massive amount of beneficial information taught. Thank you so much, Ruth! Highly recommend LoadTraining! Such a great resource. Definitely worth our investment. Looking forward to using my certification to grow our business!

FREIGHT BROKER TRAINING EVENTS CALENDAR 2022/2023
Don't miss out!
Rest easy knowing that many of our students have NO Experience in trucking or transportation at all, let alone freight brokering experience. We have been teaching successful students for 30 years to both those with and without previous experience. We are Americas Largest & Most Recognized Freight Broker Training School
We are honored to have helped tons of veterans learn how to succeed in starting a new business.
Loadtraining will teach you everything from licensing and operations, to sales and marketing, you'll learn how to run a freight brokerage or agency from your home. Entrepreneur magazine has rated the freight brokerage business as one of the top independent home businesses to own, and Wall Street Journal article cited freight brokering as the largest growing sector of transportation. This training is great if you what to become an agent, a freight broker or truck dispatcher
WHY LOADTRAINING FREIGHT BROKER SCHOOL
The curriculum in our PRIVATE & 3 Day Hands On classes offered by America's oldest transportation brokering institution, LoadTraining. We make it simple by a flow chart format to aid in the act of learning to be a freight broker. Since 1987, LoadTraining has graduated thousands of students into the business of freight brokering. No other institution offers to train new brokers to avoid the startup trial and error pitfalls common in the industry. When you graduate from our HANDS ON freight broker school, you will know more brokering law & techniques than 95% of the existing industry. "Broker Training" is now required by LAW (49 USC 13904).
FREIGHT BROKER AGENT PLACEMENT.
Join our highly trained brokering network (Truckalocity.com) as an AGENT and begin building your shipper following within days of graduation.
- Work From Home.
- No Experience Needed.
- Keep Your Clients.
- Direct Deposit Avail.
- Earn up to 80%.
- Or Start your own Brokerage / Agency.
- Call for more details about our Agent program
Get Your 1st Freight Broker Training Lesson FREE! Order The FREE Info Kit NOW To Get Started!
This 40 minute video not only features information on what our courses have to offer. The free freight broker training kit also features information on both sides of the industry, the Motor Carrier side and the Broker Agency side. We look forward to educating you on the multiple ways to make more money in the transportation industry. We are Americas Largest & Most Recognized Freight Broker Training School.